Before I introduce my barista-style blueberry smoothie, I thought I'd first sum up my thoughts on the topic as a dairy intolerant. The word 'smoothie' is quite frustratingly broad. On occasion, you'll look closely to find that there's stuff like yoghurt, cream or other such non-vegan, dairy additions that in my opinion, really aren't necessary at all.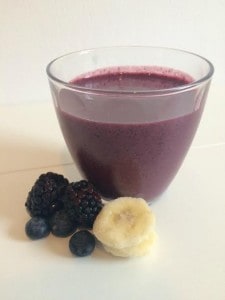 I'm also a massive fan of heading down to Costa/Starbucks/Cafe Nero every once in a while (depending on who has actually paid their taxes at the time of visiting) for a fruit booster/fruit frappucino. Whilst these icy drinks tastes absolutely divine and are beautiful on a hot day, there's something somewhat soul destroying seeing it come out of a carton only to be topped up 80% with ice. It hardly screams 'fresh'.
Then, when you actually find a bottled smoothie: expect it to be only 250ml and set you back around £2 (*cough* Innocent Smoothie). It's even more painful as you can actually buy a massive carton of the stuff for around the same price. The cost of convenience surely isn't that dear!
Recently, I bought Bex a Nutribullet Pro for her Birthday and have since basically claimed it as my own (happy Birthday me). As a massive lover of cocktails, I used to make all manner of Long Island Ice Teas, Margaritas, as well as my own creations. Sadly, after contracting IBS, I've had to give up alcohol (and cocktail making) for the last three years. But fortunately, our Nutribullet has given me a new lease on delicious beverage making.
My barista-style blueberry smoothie is a ridiculous way at essentially cheating your way to five-a-day as you can just basically chuck it all in and enjoy it in one go. If I had to sit down and eat all these separately, I'd probably not even bother in the first place! This one is inspired my one of my favourite smoothies (Naked Blue Machine) but the frozen banana gives it the icy twist that I love in coffee shop frappucinos. You can even add a little extra spinach for an added health boost in this mighty blueberry smoothie delight!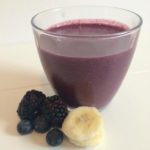 Barista-Style Blueberry Smoothie
Ingredients
200

g

blueberries

60

g

blackberries

100

g

frozen banana

5-10

leaves

of baby spinach

optional

100

ml

pressed pinapple juice
Instructions
Wash your fruit if necessary and ensure all the blueberries are minus their stalks (otherwise you'll get a crunch here and there!)

Add all the fruit together into the blender. Pour over the pineapple juice.

Blend for 30 seconds until smooth and consistent.

Pour into glass and enjoy!
Thanks for reading, let us know if you tried our blueberry smoothie on
Twitter
or
Facebook
!
Cheers,
Mark x
Comments