Peanut Butter Cookies are one of my favourites. These peanut butter cookies are gluten free, dairy free & vegan.. therefore they are suitable for all! They taste amazing, just be careful you don't gobble them all up!
I apologise for this blog post being a few days later than promised but I have been indulging endlessly in the 'peanuts of my labour'. I am a huge fan of peanut butter and as a result a huge fan of peanut butter cookies.
I always manage to sniff them out wherever I venture. My favourite peanut butter cookies to purchase are definitely the delightful Chico Cookies at Cookies & Scream (a gluten free/dairy free/vegan bakery) in Camden. However, unfortunately I do not live in London, and as a result can't get these delicious treats as often as I would like to. I decided the time had truly come to make my own.
A week ago I purchased a book I have been meaning to purchase for a very long time. Ever since I first scurried down to Brixton and came across the wonderful Ms Cupcake and her scrumptious bakery I knew her cookbook needed to be part of my collection.
When it arrived last week I drooled consistently for a few hours, as I gawped over all the recipes and amazing pictures that cover the book. The book is called 'The Naughtiest Vegan Cakes in Town' and states clearly on the front how the recipes are all dairy and egg free as well as being able to be adapted to being gluten free – music to my ears!
When I came across the peanut butter cookies recipe I wept a little with happiness. The image looked amazing and the recipe seemed very simple. I adapted the recipe from that stated very slightly by using Doves Gluten Free Plain Flour, but other than that the recipe is fairly similar.
The mixture is incredibly easy and straightforward to handle and the cookies come out soft and beyond delicious. I have had nothing but massive compliments about them since I made them, and really really want to make another batch asap!
Everyone should really give these cookies a try and I highly advise grabbing your own copy of Ms Cupcake's book… the vast amount of delicious sounding recipes within it is beyond ridiculous. It is definitely my favourite book of the moment.
So basically, if you are a fan of cookies of the peanut butter variety then try this recipe out. If you are undecided whether peanut butter cookies are for you… try this recipe out. If you've never even tried peanut butter before, the time is now… try this recipe out.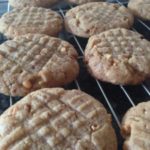 Peanut Butter Cookies (Gluten Free, Dairy Free & Vegan)
Ingredients
275g Peanut Butter

Ms Cupcake recommends using a creamy peanut butter but I used the Meridian Peanut Butter Crunchy 100% Nuts and it worked great

125g Dairy Free Margarine

I used Soya Spread

140g Maple Syrup

85g Caster Sugar

70g Brown Sugar

1 Tablespoon of Vanilla Extract

240g Doves Gluten Free Plain Flour
Instructions
Preheat your oven to 160 degrees celsius.

Thoroughly grease two large baking trays.

Measure out all your ingredients and cream everything together except the flour.

Once the mixture is well creamed, gradually introduce the flour, mixing it until combined. Your mixture should now be a bit more dough like. My dough was fairly soft and slightly oily due to the natural oils in peanut butter. This was perfect for the next stage!

Using a spoon… or your hands like I did! Form around 18 balls and place spaced out on your pre prepared baking trays.

Using a fork make a criss-cross design on each of the dough balls, pressing the down as you do this.

Place the baking sheets of delicious dough in the oven for around 15 minutes; a couple of minutes longer would do them no harm either.

Once you have removed them from the oven, leave for a couple of minutes to cool slightly before very gently easing the cookies off the sheet and onto a cooling rack to cool completely.

Indulge, enjoy and then bake some more!
Recipe Notes
These taste amazing lightly warmed with some dairy free / vegan ice cream too 🙂
Let me know what you think,
You will not be disappointed!
Thanks for reading, and thanks to Ms Cupcake for being epic!
Becky xxx
Comments